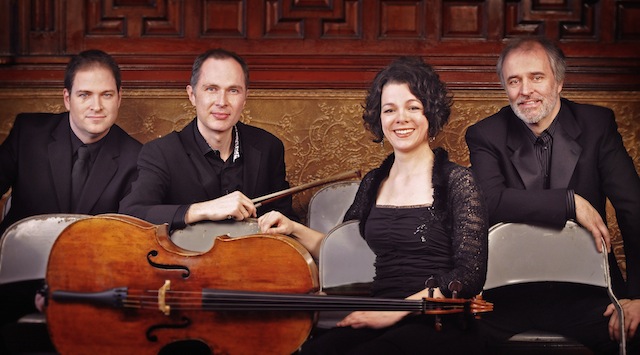 Magellan Ensemble
Virtuosi Concerts
Eckhardt-Grammaté Hall
January 5th 2013
Four stars
Reviewed by Paul R. McCulloch
January 5
th
saw Virtuosi Concerts present to its audience the much-anticipated Magellan Ensemble. The Montreal-based quartet – Olivier Thouin on violin, Yukari Cousineau on viola, Yegor Dyachkov on cello and Jean Saulnier on piano – brought a singular level of intensity and passion to the Eckhardt-Grammate Hall.
Schubert's Allegro from the String Trio in B-flat major, D. 471, performed by Thouin, Cousineau and Dyachkov, provided a light and wonderful prelude to the works presented by the full quartet; it immediately demonstrated the strings' deft touch and remarkable synchronization.
Saulnier joined his colleagues for Brahms'
Piano Quartet No. 3 in C minor, Op. 60,
a four-movement work inspired in part by the composer's unrequited love for Clara Schumann. The
Allegro non troppo
began with a mournful swell of strings backed by a constant atonal backdrop of the piano before it swept the audience away in its sheer passion and intensity and ending on a quiet, desolate note.
Scherzo – Allegro
was romantic and insistent, with sparkling piano riffs by Saulnier and intricate work by Cousineau. The following
Andante
had each player demonstrating their individual skill before coming together in a divine blend of moods and textures accented by gentle pizzicato.
The spell cast over the audience continued into the
Finale – Allegro comodo,
where one could hear a pin drop as a series of rounds quietly rose and fell then broke into a frenzied rhythm. Saulnier's flowing piano work urged his fellow players on towards the piece's triumphant final notes, after which the audience rewarded the quartet with the first sustained ovation of the night.
Gabriel Faure's Piano Quartet No. 2 in G minor, Op. 45 took an already memorable event to a new level. Where Brahms' piece had worked in contrasts, Faure's piece developed a single musical idea over the course of its four movements. Allegro molto moderato opened with fiery piano chords before settling into a more romantic middle section accentuated by brief tense flashes of viola. Allegro molto demonstrated Saulnier's masterful technique, navigating a series of high register scales with ease. Allegro non troppo was quieter and even more beautiful; Saulnier's piano, backed by lush strings, brought to mind the church bells of a faraway village. The movement concluded with gentle fingerwork that led into the powerful opening notes of the Allegro molto, in which the quartet, led on by Thouin's violin, grew in intensity and speed before a dazzling, fiery round of pizzicato brought the piece to a close and the audience to their feet. Unfortunately, despite the standing ovation, no encore was offered. One more piece, no matter how short, would have made an already marvelous program even more satisfying.
Dyachkov's enlightening comments during the performance enriched the audience's understanding and appreciation of the program. The concert was recorded by CBC Radio 2 to be broadcast as part of their classical music offering. Virtuosi Concerts has once again succeeded in bringing to their patrons a truly superb degree of artistry.
Update 14/06/13: You can listen to CBC Radio 2's recording of this concert here.